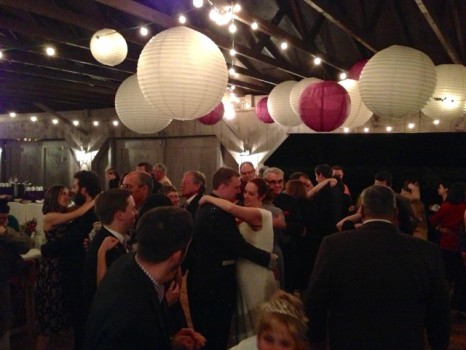 At every wedding I DJ in the Finger Lakes, clients always want a great dance party. And although each wedding is different, there are a number of factors that can contribute to a great dance party including:
The guests: how ready are they to party? Do you have a group of friends and family who like to dance?
The bridal party and party starters: super important! These are the folks who can really help get the party started. When guests see at least a few people on the dance floor, they are much more inclined to join in the fun.
DJ Requests: It helps the DJ to know in advance what your favorite dance songs are as well as the songs and genres your friends and families would most enjoy. Every event I play is different: some love contemporary Pop and others prefer classic Soul, 90's, Indie or Country etc… My goal is to tune-in to the music that you and your guests would most enjoy and help everyone to have a great time. Of course, a mix of different kinds of songs often works best to appeal to the many ages of guests at most weddings.
DJ Flexibility: Part of the reason why you hire a DJ is that they have experience knowing which songs are most effective on the dancefloor, are skillful at reading the crowd, and play the right songs at the right time. The best results tend to occur when the DJ is given flexibility in playing song requests and can add songs that they feel would work within the context of your musical tastes.
Atmosphere: Evening dance parties usually work the best. And details such as dimming the lights on the dancefloor, adding DJ uplights and having a top-notch sound system can really help :-). Most of all, having fun on the dancefloor yourselves–as much as possible. When guests see the bride and groom on the floor having a great time, they will follow.