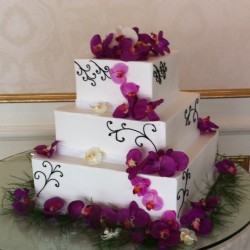 As a resident of Ithaca NY, I prefer to DJ weddings closer to home in the Finger Lakes. However, I do travel on occasion and this wedding at the Water's Edge was a memorable journey.
The Water's Edge is literally on the edge of the Hudson river overlooking Manhattan, with beautiful panoramic views of the city. For Jess & Eric's special day, I DJ'd their ceremony, then played the piano for cocktails and then went on to host and DJ their reception. Guests began arriving at 11am for the ceremony and were greeted with selections from the Vitamin String Quartet. For the ceremony, Jessica wanted to time the recessional with the closing remarks from the officiant so I edited and looped the beginning of Somewhere Over the Rainbow by Iz Kamakawiwo. It flowed perfectly!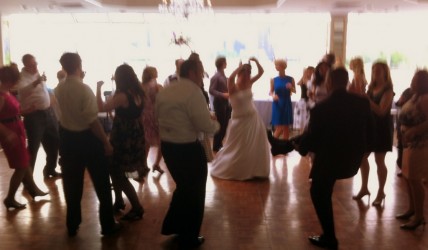 After the ceremony I played jazz and contemporary piano for cocktail hour while Jess and Eric had photos taken. Then, we had the bridal party introductions and the reception began. Dancing was fun and lively with a nice mix of family and friends.
Bride/Groom first dance: Made You Feel My Love – Adele
Father/Daughter dance: What a Wonderful World – Louis Armstrong
Mother/Son dance: Never Alone – Jim Brickman
Cake Cutting: I Wanna Grow Old With You – Adam Sandler (from The Wedding Singer)
Last Song: Sweet Caroline – Neil Diamond followed by a last dance for Jess & Eric to Can't Help Falling in Love – Ingrid Michaelson.
Here's a link to a Spotify playlist of mostly Indie music that Jess chose for dinner and here's a list of those songs:
Iron & Wine – Flightless Bird, American Mouth – Wedding Version
Dean & Britta – Friday I'm In Love
Josh Kelley – Home To Me
Joseph Arthur – Honey And The Moon
Joshua Radin – I'd Rather Be With You
Whitley – More Than Life
Iron And Wine – Naked As We Came
David Gray – Now and Always
Joshua Radin – Only You
Old 97's – Question
Regina Spektor – Samson
Gotye – Save Me
Indigo Girls – Share the Moon
The Magnetic Fields – The Book Of Love
David Gray – This Years Love
The New Amsterdams – Turn Out The Light
Death Cab for Cutie – I Will Follow You into the Dark
Ray LaMontagne – Hold You In My Arms
The Moldy Peaches – Anyone Else But You
MoZella – Amazed – Digital Single Version
Jose Gonzalez – Heartbeats
Iron And Wine – Such Great Heights
Feist – 1234
The Decemberists – Yankee Bayonet (I Will Be Home Then)
The Postal Service – Grow Old With Me
Nick Drake – Pink Moon
Regina Spektor – Us
Rufus Wainwright – The Tower of Learning
The Sundays – Wild Horses
Lisa Hannigan – I Dont Know